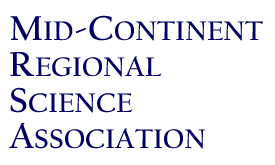 MCRSA
Mid Continent Regional Science Association
The Mid-Continent Regional Science Association (MCRSA) is an organization consisting of an interdisciplinary membership from academics and other public and private organizations. We are interested in using the tools of regional science to help solve applied problems in rural and urban areas at the local, state, and national levels.
Among our membership are campus-based teachers and researchers, outreach educators, public and private analysts, consultants, and many others. The disciplines represented within our group include economics, planning, geography, business, sociology, public administration, and others. While the majority of our membership is generally located in the central United States, we have active members throughout the world.
MCRSA is one of five regional science associations located in North America, all of whom are affiliated with the North American Regional Science Council (NARSC). To learn more about regional science in North America, visit our NARSC page.