Southern Regional Science Association
51st Annual Conference
Call for Papers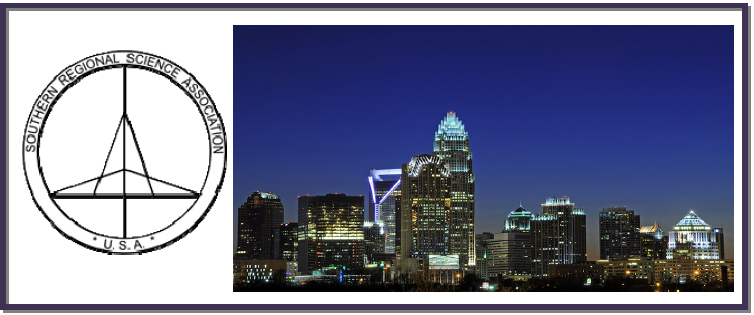 Keynote Speaker: Timothy J. Bartik of the W.E. Upjohn Institute for Employment Research
Luncheon Addresses: Douglas Woodward of the University of South Carolina
Nancy White of Bucknell University
We are pleased to issue a Call for Papers for the 2012 Southern Regional Science Association Conference in Charlotte, NC. We will meet at the Charlotte Marriott City Center from Thursday, March 22 through Saturday March 24. The conference rate of $159 per night is available from Wednesday, March 21 through Sunday, March 25, 2012.

Organized special sessions have already been planned on Casino Gaming and Regional Economic Development, Place-Based Policy, State and Local Economic Conditions, State and Local Finance and Regional Development, Broadband Internet and Regional Development, Social Capital from an Interdisciplinary Perspective and Interregional Migration.
To participate, please send an abstract to Program Chair Dan Rickman (Oklahoma State University) by going to the
conference website
. After logging onto the site, click on
2012 Annual Meeting of the Southern Regional Science Association
. Then click on
Proposal Submission
to begin the submission process. Unless the paper is part of a special session, submit the paper under the track
General Papers
. The initial deadline for submission of abstracts is
January 15, 2012.
To propose a session, please e-mail Dan at
This email address is being protected from spambots. You need JavaScript enabled to view it.
.
Each paper accepted for presentation in the 2012 SRSA meeting will be assigned a discussant. Participants will be given their discussants' contact information and will be responsible for delivering a complete paper to that person by March 14, 2012.
You can learn more about the SRSA at
www.SRSA.org
or visit us on Facebook.

We hope you will join us in Charlotte for an enjoyable and productive conference.