Professor Daniel (Dan) A. Griffith (University of Texas at Dallas) is awarded the 2021 Jean Paelinck RSAI Award!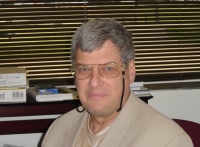 The selection committee, made up of Prof. Budy Resosudarmo (ASU; Chair). Prof. Michael Batty (UCL), Prof. Janet Kohlase (University of Texas at Houston), Prof. Isabelle Thomas (Universitè Catholique de Louvain), and Prof. Jouke Van Dijk (University of Groningen), provided the following motivation for the prize:
"After examining the works as well as considering recommendations by nine distinguished RSAI fellows, the committee is delighted to award the 2021 Jean Paelinck RSAI Award to Professor Daniel (Dan) A. Griffith. The committee is convinced that since early 1970s till these days Professor Griffith consistently contributed and shaped the field of regional science and, in general, advanced spatial statistics by publishing more than 180 journal articles, approximately 70 of them are as single author, in key regional science/spatial statistics journals and 11 important books. His contributions have been recognized with awards from many academic societies and professional organizations, including being an elected Fellow of the American Statistical Association".
Congratulations Dan!
Andrea Caragliu
Associate Professor of Regional and Urban Economics
Politecnico di Milano, ABC Department
RSAI Executive Director